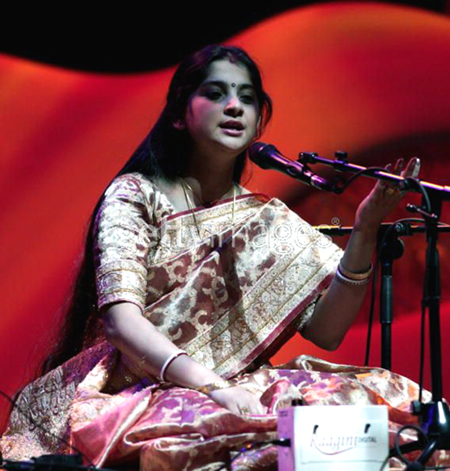 Kaushik performing in London in 2005, after she received the BBC3 World Music Award
On Tuesday 23 November 2010 at 23.05 PM (

5.05 PM/USA

), German public

radio WDR3

portrays phenomenal raga-singer
Kaushiki Desikan Chakrabarty
from Calcutta!
Kaushiki was blessed with the rare gift of a melodious voice and extreme musical potential which was given shape by her Guru, parents and her unflinching practice and dedication throughout the years.
At Sangeet Research Academy, her birth place, she grew up amidst the greatest stalwarts of music. Her musical talent was noticed even before she was a toddler, as she could reproduce any musical note which she was asked to sing. Her mother Smt. Chandana Chakrabarty an accomplished singer herself, took up the task of training Kaushiki in the initial stages, thus being her first Guru. Since music was in her genes, the task of further enhancement of her musical understanding and knowledge was taken over by none other than her illustrious father Pandit Ajoy Chakrabarty. Following the age old tradition Pandit Ajoy Chakrabarty took Kaushiki to his mentor and guide, Guru Jnan Prakash Ghosh,who accepted her as a " Ganda Bandh Shagird" (Formal Disciple). Kaushiki's exceptional talent was ably groomed under the magical tutelage of Guru Jnan Prakash Ghosh. It was the influence of Guru Jnan Prakash Ghosh which instilled in little Kaushiki's heart that the path to musical excellence was not only technical brilliance but philosophical realization and devotion.
As the years passed by she was selected as a scholar at ITC Sangeet Research Academy in her early teenage under the guidance of her father since when the journey began. During this time ,the Guru, the Father and a performer par excellence, Pandit Ajoy Chakrabarty guided her to several platforms all over India and abroad and imparted the invaluable musical knowledge along with art of performance and the different aspects of complete musicianship. During her early days as a performer she was privileged to share platform with maestros like Ustad Amjad Ali Khan, Pt. Hariprasad Chaurasia, Pt.Bhimsen Joshi, Ustad Zakir Hussain, Ustad Rashid Khan as a scholar of ITC SRA. Her " RIYAAZ" under the guidance of her father turned Kaushiki from a child prodigy to the only A-TOP grade scholar, then at ITC SRA.
Prestigious music festivals like the Dover Lane Music Conference, Harballabh Sangeet Sammelan, Alauddin Khan Sangeet sammelan (Maihar), Ustad Bade Ghulam Ali Khan Yadgaar Sabha (Delhi), Sangeet Natak Academy (Patna), Swar Utsav (Delhi) and many more have seen Kaushiki performing before connoisseurs and august gatherings. In her recent array of concerts she has performed in Sawai Gandharv, Saptak Festival, Shankarlal Festival (Delhi) and the Dover Lane Festival this year was the sixth year performance in a row.
Her musical horizons have not been limited to the boundaries of India but has been expanded to the global audience. Music lovers from countries like USA. Europe, England have highly regarded and acclaimed Kaushiki's artistry.
Kaushiki Chakrabarty
- excerpt from raag Multani - Amsterdam April 15 2007
On tabla: Subhashish Bhattacharjee, on harmonium: Vyasmurti Anandteerth Katti
A reflection of this came through many awards of which the most coveted was the BBC Radio 3 World Music Awards. Kaushiki's excellent renditions in her albums FOOTSTEPS, THE JOURNEY BEGINS, SWAR SADHNA,PURE AND HAMARO PRANAAM have won the heart of many a listener all over the world. She has rendered her mellifluous voice in the same album along with the Nightingale of India, Lata Mangeshkar titled VANDE MATARAM 2. Recently she has also recorded a number for A.R.Rahman in the famous Oscar nominated film WATER.